South Shore Glass and Door is located at:
1790 D Street, S. Lake Tahoe, CA 96150
For a YAHOO map click here                       For a  GOOGLE map click here
     From Left to Right - Bill (retired), Donna and Steve Russell
      at our 40th Anniversary Celebration (October 1-4, 2012)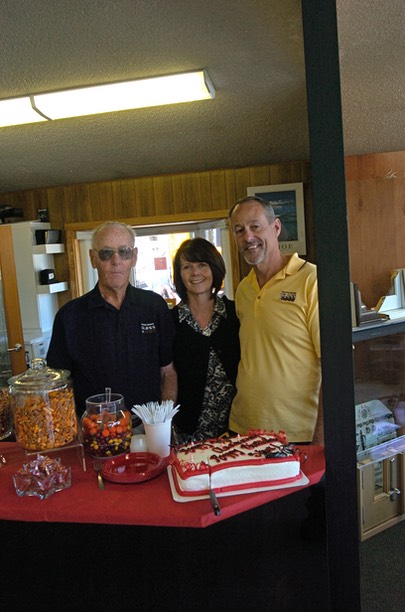 South Shore Glass & Door is owned by Steve and Donna Russell. 

Steve and Donna represent the 2nd generation of this family owned business, with over 40 years experience in the glass and door business. Bill Russell (our patriarch) purchased S. Shore Glass in 1972 and it has remained a family owned business, operating in the same location for the last 40+ years. 
We serve commercial and residential customers throughout the entire Lake Tahoe Basin and Carson Valley. You can rely on us to provide your quality products with honest and courteous service. As we have grown with Lake Tahoe, we have been involved in the construction of many of the premier projects in Lake Tahoe, including:
Sarotoga Springs - Minden, NV
Harrah's Lake Tahoe
Harvey's Resort
Sahara Tahoe / High Sierra
Lakeside Casino
Bill's Casino
Park Tahoe Casino / Caesar's Lake Tahoe
Heavenly Valley Ski Resort
Sierra Ski Resort
Lake Tahoe Airport Traffic Control Tower

Ridge Tahoe
Dayton Valley Homes - Howe Construction
Edgewood Golf Course

One Ring Road
    CALL US @ 530 541-2691